Refrigerator size and volume
Want to know how to choose a quality refrigerator? Follow the 6 criteria for choosing a unit to decide which fridge to choose.
Small (height up to 1 meter or 1-1.5 meter, width less than 59 cm) are convenient for a cottage, hotel or office;
fridges of mini-bars (height 1-1,5 meters, width up to 59 cm) are used for storing drinks and fruit;
standard (height 1.71-1.85, width 60 cm) – the most common models for small or medium kitchen;
European standard (1.86-2 meters, width 60-80 cm).
Kitchen unit differs in principle of placement:
the built-in refrigerator is mounted in the kitchen furniture;
the free-standing unit is placed in a suitable place.
Location of freezers
The second parameter to which you should pay attention is the location of the freezers and their volume. In fridges with the same size, the volume of the freezer compartment differs depending on its location:
in the lower part of the fridge (called "combi") the freezer volume reaches up to 300 liters. Often the freezer compartment is equipped with 2-4 drawers (depending on the model);
in the upper part of the fridge (called "top"), the volume of the chamber is up to 200 liters;
the Side-by-Side freezer compartment is on the side with a volume of up to 500 litres.
Refrigerator defrost system
Common types of defrost:
Droplet system – when the compressor is running on the back wall of the unit, ice caps are formed. When the compressor stops, they melt. The droplets flow into a special tank and evaporate;
No Frost technology prevents frosting and creates a dry microclimate. Built-in fans distribute air evenly in freezers and coolers. Some models are equipped with zones of freshness (zero zones), where up to 90% humidity is maintained. Products stored in this compartment do not dry out and remain fresh 1.5 times longer;
the "Full no Frost" system, unlike "No Frost", has a separate system for defrosting the evaporator. The principle of defrost type is the same as that of the previous technology.
Type of compressor
An important point when choosing a refrigerator is the type of compressor:
The linear compressor quickly cools to a set temperature, switching on/off quietly and running without vibration;
the inverter compressor does not shut down at all. It simply reduces power by maintaining a certain temperature.
In a single compressor fridge-freezer, it is not possible to defrost the refrigerator and freezer compartment separately. The dual-circuit refrigeration compressor has an optimum power consumption class "A" or "A+".
Each compartment has its own compressor in the two-compressor room, so the compartments can be defrosted and controlled independently of each other. But this feature increases the cost of the refrigerator by 20-30%. In addition, if one of the compressors breaks down, both must be replaced. Two compressors consume twice as much electricity.
Noise level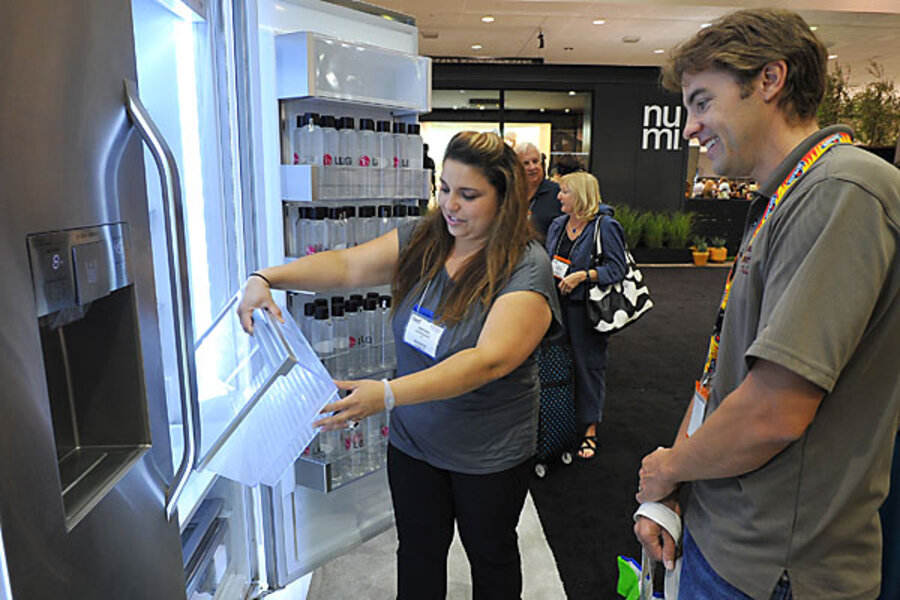 Don't believe the tricks of fridge-low noise advertising. According to the technological standard this level does not exceed 45 db, which is comparable to the noise of leaves in windy weather. Noise lowered by manufacturers by several points does not play a significant role, and the price is affected. Better pay attention to the warranty period of the model you like – the bigger it is, the better.
Materials
Speaking about physical characteristics, it would be useful to mention such parameters as the material of covering the refrigerator and its filling. The most simple and inexpensive material is plastic. Models with metal coating, as a rule, will be more expensive, but also more durable. In the wooden case, wine cabinets are most commonly found.
There are models covered with poured glass (there are much less fingerprints left on them), and some manufacturers have even released special removable panels that allow you to quickly and easily change the color, and therefore the appearance of the refrigerator. It turns out to be almost as easy as replacing a mobile phone case or bumper.
Built-in shelves and grids can be plastic, glass or metal. Plastic grids are the simplest and most inexpensive, but they can be short-lived and cracked. Glass shelves, in our opinion – the best combination of simplicity in maintenance, strength and efficiency. As for the metal shelves of grids, they, in their turn, are the best way to ensure air circulation and maintain a uniform temperature level inside the refrigerating chamber, but if something spills or crumbles – one shelf is likely to have no limit.
As practice has shown, the side shelves located on the refrigerated compartment door are the most common cause of users' indignation: for example, they often do not fit large enough objects, such as 2-liter plastic bottles. If you are a fan of such voluminous containers, it makes sense to clarify this issue before buying so as not to be disappointed on the first day.
Additional possibilities
Although the principle of operation of a domestic refrigerator has not changed much since its invention, a number of innovations for comfortable everyday use have appeared in modern models:
Supercooling mode of the refrigerating chamber is convenient if you need to load warm products (especially in summer) or quickly cool a bottle of wine or juice. This function cools food down to an optimal temperature of +2°C;
the super-freezing mode of the freezer compartment is convenient for fast freezing (down to -24°C) of large quantities of food without losing its flavour;
Vacation mode reduces power consumption when you are away for a long time. The freezer compartment operates normally and uses a minimum of energy to cool the empty refrigerator compartment.
Number of cameras
The number of chambers depends on how many zones with different temperature levels your refrigerator will have. Most models have only two chambers: a freezer (for long-term storage of frozen food) and a refrigerator (for short-term storage).
Three-chamber refrigerators are equipped with three compartments: refrigerator, freezer and universal chambers. The universal chamber is often called a "vegetable" or "zero" chamber: it allows food to be stored at a temperature close to zero, keeping it fresh for as long as possible. Sometimes the "fresh zone" is not separated into a separate chamber, but is present in the refrigerator as a separate box with its own door.
Speaking about cameras, it is not superfluous to recall once again such a parameter as the useful volume: for example, it is better to determine in advance what size should be the freezer so that it could accommodate all the necessary food.
Usually a refrigerator has one door for each chamber, but there are models in which one door falls on two chambers or one chamber closes two doors.
---
Now you know how to choose a fridge for your home and summer cottage, as well as which one is better.
The electronic catalog of our shop has a wide range of home appliances. Order the goods right now. Tomorrow we will deliver the purchase at a convenient time for you.